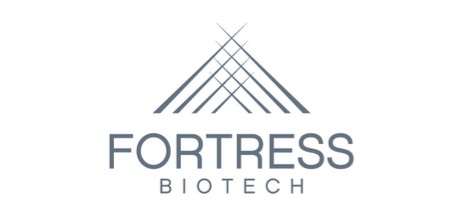 ​
Fortress Biotech Reports Third Quarter 2022 Financial Results and Recent Corporate Highlights
Net revenue for the nine months of 2022 increased 17.5% period-over-period to $59.3 million
​
Cosibelimab BLA submission for metastatic and locally advanced cutaneous squamous cell carcinoma expected to be submitted by January 2023
​
Miami, FL – November 14, 2022 – Fortress Biotech, Inc. (Nasdaq: FBIO) ("Fortress" or "Company"), an innovative biopharmaceutical company focused on efficiently acquiring, developing and commercializing or monetizing promising therapeutic products and product candidates, today announced financial results and recent corporate highlights for the third quarter ended September 30, 2022.
​
Lindsay A. Rosenwald, M.D., Fortress' Chairman, President and Chief Executive Officer, said, "Fortress' unique business model continues to provide value-creating events for our shareholders with a 17.5% net revenue increase for the first nine months of 2022, compared to the first nine months of 2021. We, along with our partner companies and subsidiaries, are focused on successfully advancing our 20 clinical-stage programs in 31 ongoing clinical trials, including seven1 pivotal clinical trials. Additionally, we have eight marketed dermatology products in our portfolio."
Dr. Rosenwald continued, "Urica Therapeutics initiated a Phase 1 clinical trial of dotinurad, which we are developing for the treatment of gout and possibly other hyperuricemic conditions. Our cell and gene therapy partner company, Mustang Bio, announced that the first patient was treated in its multicenter Phase 1/2 clinical trial to evaluate the safety and efficacy of MB-106, a first-in-class CD20-targeted, autologous CAR T cell therapy for the treatment of relapsed or refractory B-cell non-Hodgkin lymphomas ("B-NHL") and chronic lymphocytic leukemia ("CLL"). Additionally, MB-106 data from the ongoing Phase 1/2 clinical trial underway at Fred Hutchinson Cancer Center ("Fred Hutch") continue to demonstrate a high rate of complete, durable responses and a favorable safety profile across a wide range of hematologic malignancies, including a 100% complete response rate in patients with Waldenstrom macroglobulinemia ("WM"), a rare form of B-NHL, for which we were granted Orphan Drug Designation. MB-106 also shows potential to treat patients in an outpatient setting and provides an option for patients treated previously with CD19-targeted CAR T cell therapy."
Dr. Rosenwald concluded, "Looking ahead, we have several near-term milestones planned including the announcement of early results from the Mustang Bio-sponsored Phase 1/2 clinical trial of MB-106 and Checkpoint Therapeutics' planned Biologics License Application ("BLA") submission of cosibelimab for both metastatic and locally advanced cutaneous squamous cell carcinoma indications. In the first half of 2023, we anticipate Phase 1 data from the dotinurad clinical trial and topline data from the two DFD-29 Phase 3 clinical trials for the treatment of papulopustular rosacea. In 2023, we also expect the first data publication of
1 Includes two trials at Caelum Biosciences; AstraZeneca's Alexion acquired Caelum Biosciences, a company founded by Fortress, on 10/5/2021 for up to $500 million, including $150 million upfront and up to $350 million in future contingent milestone payments. Fortress received ~$56.9 million of such upfront amount and is eligible to receive ~42% of the proceeds from all future milestone payments.